Welcome to the Taube-lab website,
From here you can find out about our latest research, the lab, and all sorts of things Caliciviruses and Noroviruses.
Feedback is always welcome!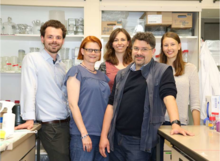 Who are we ...
We are a young molecular virology group at the Institute for Virology and Cell-biology, studying the biology of caliciviruses with emphasis on murine and human noroviruses.
What do we study ...
We are particularly interested in cellular and viral determinants for norovirus tropism and pathogenesis. Our investigations encompass structural analysis of protein-compound interactions that can be used for the development of platforms to design and test new antivirals. In close collaboration with Prof. Thomas Peters and colleagues at the Institute of Chemistry, we are interested in the dynamics of virus-glycan interaction at atomic level using X-ray crystallography and STD NMR.
Additionally the recently developed mouse model for human noroviruses provides an excellent platform to test new antivirals for their efficacy. The study was published in July 16th 2013 in a journal from the American Society for Microbiology (Taube et al. 2013, mBio).
Our expertise ...
The lab expertise includes a broad range of state-of-the-art molecular biology, cell biology and virology techniques (i.e. reverse genetics), as well as structural analysis, 3D-modelling, electron microscopy, and mouse models.

Group Leader
Prof. Dr. rer. nat. Stefan Taube
Professor for Structural and Molecular Virology
Institute of Virology and Cell Biology
Ratzeburger Allee 160
23562 Lübeck
Germany
Phone:
+49 451 3101 4020 (Office)
+49 451 3101 4001 (Secretary)
+49 451 3101 4021 (Lab)